Cloud computing is the on-demand delivery of computing services over the internet on a pay-as-you-go basis, frees a business from the burden of having to store data in in-house servers, offers faster innovation, improves increasing operational efficiency, flexible resources, and economies of scale. Typically, users pay only for the cloud services they use which reduces operational costs, helps run your infrastructure more efficiently, and scales as your business needs change.In an age of digital transformation that has accelerated during the Covid-19 pandemic, cloud computing has been turbo-charged. Cloud use has surged during the pandemic, as businesses have sought to be more agile and efficient and as they have adapted to remote work.
Cloud computing in the hospitality industry is transforming the customer experience at all levels of the value chain and turning possible into actual. From a welcoming, no-surprises arrival to a speedy and efficient departure, analytics can create a "frictionless experience" for visitors and deliver greater insights to hospitality organizations. A lot of amazing hospitality apps are run over the cloud.
A plethora of cloud-based services have risen such as Infrastructure as a service (IaaS), Software as a service (SaaS), and platform as a service (PaaS) and have become the first choice of cloud computing services. The chart below from Computech Computing explains how the main components work together: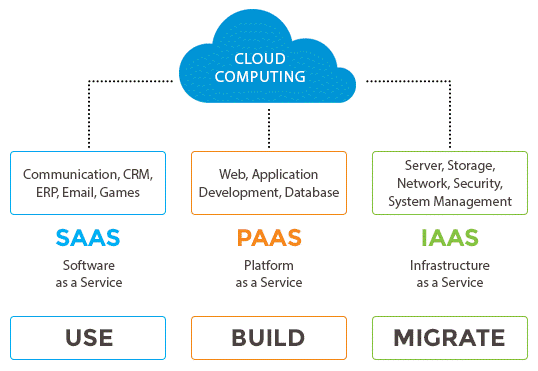 Broadly, cloud computing provides several advantages over traditional computing:
Avoids costly and painful installations
Requires minimal upfront investment
Allows software companies to focus resources on R&D/innovation
Eliminates negative depreciation (in fact, the software gets better with age, since updates can be made at any time)
Offers the ability to cancel at any time (plus has lower switching costs for buyers)
Pushes software companies to consistently earn customer loyalty with innovation and great service
Here are some of the benefits of cloud computing as they apply directly to hospitality businesses.
Hospitality Businesses Can Cut Huge Business Costs With Cloud Computing
If we are thinking in terms of profits, cloud computing allows a business to shift some or all of its services to the cloud, thereby reducing operational costs, such as licensing fees, energy costs, and hardware costs. With less physical infrastructure needed in your business, many of your other bills fall away.
Cloud Computing Leads To Improved & Enhanced Guest Experiences
A cloud based PMS gives staff the best set of management tools and helps them improve the guest experience. Staff no longer have to man fixed terminals and allow them to work independently and with greater efficiency. Check-ins can now be done from different platforms.
Direct Bookings Are Made Easy With Cloud Computing
Cloud computing allows hospitality businesses to have direct bookings rather than depending on travel agents for bookings. If they outfit their websites with a web booking engine that can be integrated to the PMS they can greatly increase their ability to book online. A business such as a medspa no longer needs to have clients make bookings through an intermediary. Businesses are freed to focus on other aspects of the guest experience and the increasing the revenue of the property. Best practices for improving direct bookings include using technology to your advantage.
Cloud Computing In Hospitality Industry Makes Working Remotely Possible
Cloud computing makes remote work possible. Staff and work flows from the cloud using a device such as a laptop, or a computer, or mobile phone or tablet.
Outlook
With the surge in cloud computing as part of the digital transformation of businesses, it is increasingly important to adopt cloud computing. With the Covid-19 pandemic, the benefits of flexibility, reduced costs, the ability to work remotely and the opportunity to increase profits, have never been more important.